Welcome to High Five Mastering
A high end mastering facility recently relocated from London, UK, to Bratislava, Slovakia. Offering quality online and attended mastering at the most competitive prices! The studio is equipped with the cherry-picked analogue gear from world's most respected manufactures such as Prism Sound, Maselec, Chandler, Avalon, PMC, TC Electronic, Genelec, Furman, Waves, etc.
Having ears of experience buttressed by prime sound engineering education your project is in safe hands!
I have worked with countless labels, artists and producers. Here's a small sample: Universal, Sony, Warner Brothers, Council of Europe, Phil Ramone (Frank Sinatra, Aretha Franklin, Joss Stone), Youth (Pink Floyd, Paul McCartney, Killing Joke), Jon Kelly (Freddie Mercury, Kate Bush, Melody Gardot), CASH (The Bloody Beetroots, Blake, The Osmonds), Dionne Warwick, Groove Armada, Mr.Scruff, Paul Oakenfold, Escala, Cash+David, Fjokra, Mark de Clive Lowe, Ruth Lorenzo, Andi Durrant & Steve More, Wideboys, Aaron Ross, A Sides, Full Intention and many more.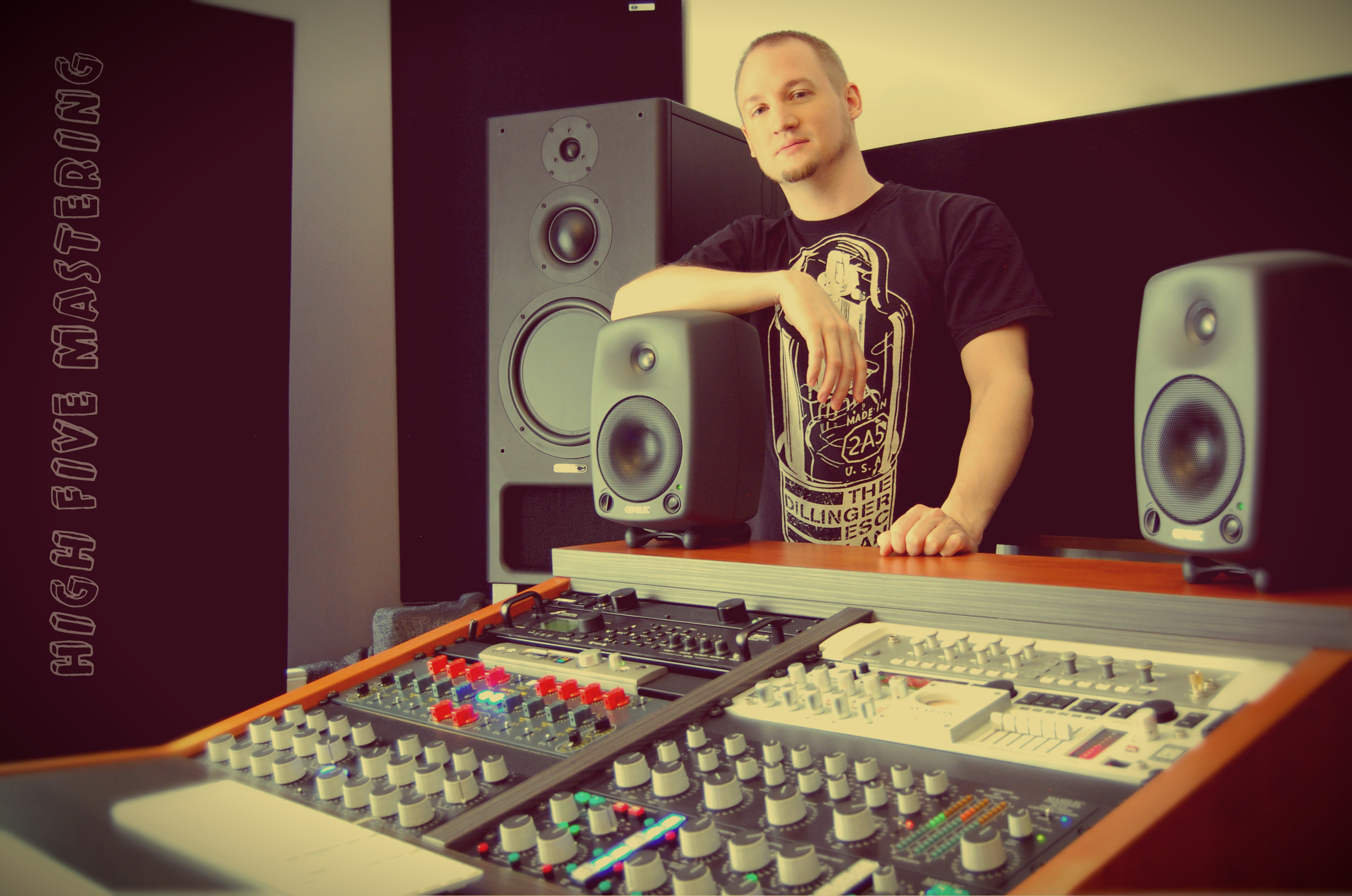 Online Mastering
Just upload your tracks and wait for them to come back mastered.  You'll get a free revision to make any amends. 100% satisfaction guarantee! All music genres welcome and I work WORLDWIDE!
Mastered for iTunes
I will redress the loss that occurs during the conversion process from master to Apple's AAC format including removing inter-sample clipping. HFM is an official provider of the Apple Digital Masters.
Stem Mastering
Not for the faint-hearted! 🙂 This service enables increased flexibility or if you need to create vocals up, vocals down, a capella or instrumental mixes during the mastering.
Mix supervision
I can supervise your mix during the entire production process to assure the best possible result.
Editing & compilations
I can perform edits on your finished mixes, propose the best spots to cut or work to a brief. I can equally compile the tracks for you, implement the metadata and normalize it very promptly and cost effectively.
DDPi or MD5 creation
Do you have an already mastered material and need to create a DDP image for the duplication plant and implement all the metadata? I will create it for you and will also give you access to your own secure player to listen and approve your CD.
Testimonials
Boris will find and clean up flaws in your mixes that you didn't know they even existed! His diverse range of music knowledge and professional attitude makes him one of the best candidates to trust with your mastering needs. He has certainly mastered the art!
Boris's mastering is superb, we've worked a lot together and I trust his ear implicitly. He has an innate understanding of what the song, mix + genre needs - wether it needs to compete on the radio, sound huge in a club or just sound delicate + warm. He enhances records beautifully without ever changing their identity, he is also brilliant and open to work with. 
We were very happy with the master of our Fresh Out Of The Bus album. It is now over one year old and even now we wouldn't change a thing on its sound. Boris's final touch beautifully enhanced all the emotions that we have put into the recordings. We wanted to master our album with someone who will be able to advise us on the mix and guide us with what could be done to make it sound better, which is exactly what Boris did. We're looking forward to our next collaboration!
Ladies and Gentleman, musicians, recording studios and everybody else who's on the lookout for professional sound! I highly recommend the services of High Five Mastering. You can count on more than a professional approach, quick turnovers and reliability when working with Boris. I feel very happy and lucky, that I could have mastered my project with him at his studio.
Boris is a wonderfully proficient, professional and diverse engineer with an exceptionally acute ear. He has total respect for the client's musical intentions while injecting his own original touch which benefits the composition every time. He is a reliable, efficient and good-natured professional who I have chosen to work with every time despite having worked with several esteemed engineers with many more years of experience.
I was very satisfied with Boris's work. The guy has not only good ears and hears what we mortals can easily overhear, but can really listen to the music and give it what is needed, what it suits the best. He is a very nice, easy-going person too, therefore working with him is always a pleasure to me. I can rely on him everytime and anytime. My newest CD, when finished, goes straight to him.
Collaboration and communication with Boris is awesome. His approach is highly professional and he's really friendly. Our common goal was to create an album with a professional sound, which is what we have achieved - thanks to his skills. I recommend High Five Mastering to every band or interpreter, who wants to get maximum out of their recordings.
Big Thank You to High Five Mastering - Boris Sodoma for having truly professionally mastered my album Echo.
Boris's mastering sounds great. I am very pleased with his work and I feel very confident with my mixes in his hands. Also Mix Supervision is a great option - I have learned a lot from his advices and my next work will be better! I also appreciate very good and quick contact. It's been a pleasure, Thank You!